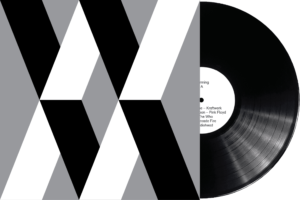 Working with Music
Some people can't work with music as it breaks their concentration, but for us it stimulates our imagination, creativity and the working atmosphere at our studio. It is, though, a delicate matter to select the right music to fit the work you are doing. We discovered, via trial and error, that when we are brainstorming we work best with concept albums such as Sgt. Pepper's or Dark Side of the Moon, during writing we prefer to listen to instrumental music such as Olafur Arnalds or Kind of Blue by Miles Davis. Here is our list of music that we listen to during our various activities and how musicians inspire our designs and texts.

During brainstorms
We work quite well with music made by musicians with an art school background. The members of the band weren't properly trained musicians, but originality seemed more important than technique. Mixing ideas from high & low culture and fine art, they presented some groundbreaking and clever ideas for the format of pop music. As they thought in concepts they were interested to make concept albums featuring songs and lyrics that were unified by a theme. These albums are filled with unconventional and experimental forms of storytelling, authentic songs that redefined pop music. The following albums we have played over and over on our turntable: The Man Machine by Kraftwerk, Dark Side of the Moon by Pink Floyd, Tommy by The Who, the first two Roxy Music albums, Sgt. Pepper by The Beatles, Reflektor by Arcade Fire, Colour of Spring by Talk Talk, My Life in the Bush of Ghosts by Brian Eno and David Byrne, KID A by Radiohead.

Designing magazine pages
We have a preference for live albums. The music is upbeat, energetic, pulsating and the sound of an audience in the background bring some extra liveliness.
Alive by Daft Punk, Minimum-Maximum by Kraftwerk, Play by Moby, Everything, Everything and Second Toughest in the Infants by Underworld or Peter Frampton Comes Alive. When we approach a deadline and need to finish some layouts we turn up the volume.
To beat the 4pm energy slump we experienced that the first tones of the following songs give us a guaranteed energy boost: Jump by Van Halen, 1999 by Prince and Another One Bites the Dust by Queen.

During writing
We can listen to music but it has to be instrumental and tends to be from the electronic genre. Favourites are Loscil, Olafur Arnalds, Amber by Autechre, Six Marimbas by Steve Reich, Kind of Blue by Miles Davis. Later in the evening the music tends to get a bit darker and mysterious such as Russian Mind by Oneohtrix Point Never, Narkopop by Gas.

Preparing an interview
When we're brainstorming an angle for an interview or make a list of questions we would like to ask a musician, we play their albums. It is a stimulating form of researching their catalogue. It generates a stream of questions when you listen to their music and lyrics, or find common threads in the songs. For questions about their instruments we watch clips on YouTube of live performances. During a concert you can study how musicians plays their instrument and what specific sound they are producing. This was very helpful in our preparation for our interview with Daniel Lanois who plays many of his songs on a pedal steel guitar. For our interview with Stewart Copeland we watched people playing drum covers of The Police songs. Sometimes they show the drum part in split screen so you can focus on the snare and base drum simultaneously. Listening and watching musicians in action brings us in the mood for the upcoming interview.

Memories
Just like smell, music can bring up memories. Sometimes when we listen to an album or a song it reminds us of projects we worked on. Radiohead's The King of Limbs brings up memories of working on the British GQ project, where the staff played the album day in, day out at their editorial offices. The albums by Tears for Fears and Travis were favourites at Esquire and Alive by Daft Punk was a favourite during deadline period at Quote magazine. Thierry has some fond memories about the album A Trick of the Tail by Genesis which he listened to with his class mate, Job van Dijk, when we were designing the school paper until deep into the night.
In the next article we will explain how listening to David Bowie, Genesis, The Beatles and Bob Dylan influences our creative output and productivity.

We love to hear what music you like to work with…